What You Need For Your First College Apartment
Tips On Budgeting, Location, And More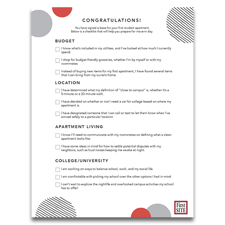 Congratulations on signing your first lease! You may be a little nervous about moving into your first apartment, but we've got you covered.
With this checklist, you'll learn:
3 crucial items about budgeting.
How to determine whether your location is a good fit.
How to live with roommates and neighbors.
What you should know about your school.
Use the form to download your checklist right now!